Fax:+86 371-67993277
Tel: +86 371-67991755
Sales direct: +86 15838331071
E-mail:sales@battemachinery.com
https://www.extrusionscreenchanger.com
24h services
Continuous belt screen changer
Belt screen changer is one kind of advanced screen changers, and this full
continuous and
automatic
plastic extrusion screen changer
is one or more of the filter or automatic switching means for plasticized material flows in the filter to filter out foreign particles and impurities.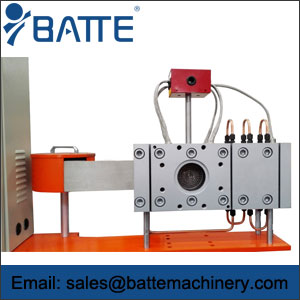 Belt screen changer details:
It consists of screen changer main body, heating or cooling system, electrical control system, etc.
The system control components can automatically governs the filtering time and screen moving speed.
The screen changing is fully automatic and continuous.
The material flowing does not have pulsation, the product shape does not change, and the quality is good during screen changing.
There is no waste or scrap during whole production. The energy consumption is less.
The filter length can be customized between 10 and 20 m. Moreover, the filter can be used continuously for 2 or 6 months.
This type screen changer is applicable for plastic polymer, such as PP, PE, ABS, PS, etc.

Filtering time and band moving rate are automatically controlled by pressure sensing elements of the system, no need of outside control. It is easy to operate, and ensures perfect filtering performance.
Continuous changing screen, realizes non-stop production, and stable pressure.
Filter length 10-20m tailor-made, constant production 2-6 months.
Filter moving distance control by time relay and material pressure, or set up on line adjustment in advance.
Plastic material: PP, PE, PS, ABS, PET
Various filter area for choosing can offer standard series for special tooling.

Belt screen changer
properties and applications:
Filter consists of a perforated metal support plate, perforated plate column or mounted on the carrier plate, so that the carrier can be moved between a working position and an off-line system inoperative position switch. Screen Changers can be installed into any new or existing extruder, melt pump, reactor or other extrusion line, such as
extrusion screen changer for
rubber extrusion system, plastic extrusion system, etc. It can be used to filter any type of polymer, rubber, or ceramic melt, and
plastic extrusion screen changer is Batte hot product.
Belt plastic extrusion screen changer specifications:
Type

Output

Kg/h

Size (mm)

Screen size

Heating tube

L1

L2

L3

Ф(mm)

cm2

V

W
Relative Articles:
◆Single column screen changer
◆Plate type screen changer
◆Hydraulic station for screen changer
◆Double column screen changer
◆Manual screen changer for extrusion
◆Filter without wire mesh
©2015 Batte Mechanical Zhengzhou Co,.Ltd. All rights reserved. 
sales@battemachinery.com
As one of
screen changer manufacturers
in China, Batte supplies
extrusion screen changer
, especially
hydraulic screen changers
.