Fax:+86 371-67993277
Tel: +86 371-67991755
Sales direct: +86 15838331071
E-mail:sales@battemachinery.com
http://www.extrusionscreenchanger.com
24h services
Manual screen changers
Manual screen changers
are discontinuous screen changers suitable for low output extruder under 90kg/h, and
manual screen changer for extrusion
has special features and advantages compared with hydraulic screen changers.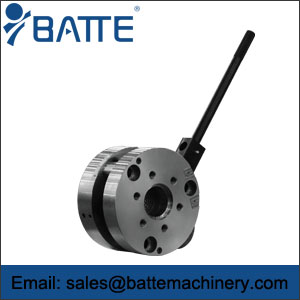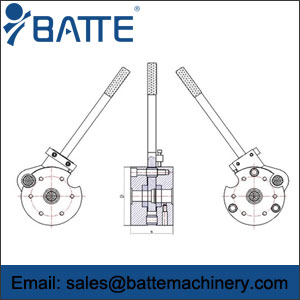 Manual screen changer for extrusion specifications:
Type

Output

Kg/h

Size (mm)

Screen size

Heating tube

L1

L2

Ф(mm)

cm2

V

W
Manual screen changers features and advantages:
Easy installation and simple operation
Suitable for low output extruder under 90kg/h
Operating bar position can be adjusted
According to specific layout of the workshop
Unique flexible sealing system guarantees perfect sealing effect
Precise location of the screen ensures very fluent plastic flow
The operation handle can be adjusted according to the workshop position.
With its unique rigid material or compensation sealing design, the service life is long.
The position is precise during screen changing.
It is applicable for 90 mm extruder or less than 90 mm extruder plant
Relative Articles:
◆Single column screen changer
◆Continuous belt screen changer
◆Plate type screen changer
◆Hydraulic station for screen changer
◆Double column screen changer
◆Filter without wire mesh
©2015 Batte Mechanical Zhengzhou Co,.Ltd. All rights reserved. 
sales@battemachinery.com
As one of
screen changer manufacturers
in China, Batte supplies
extrusion screen changer
, especially
hydraulic screen changers
.