Fax:+86 371-67993277
Tel: +86 371-67991755
Sales direct: +86 15838331071
E-mail:sales@battemachinery.com
https://www.extrusionscreenchanger.com
24h services
Filter without wire mesh
Filter without wire mesh
includes filter without wire mesh for continuous discharging of wastes in continuous production, pelletizer filter without wire mesh, and other types of
extrusion polymer filter
.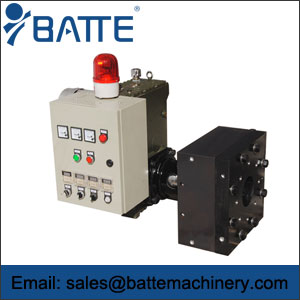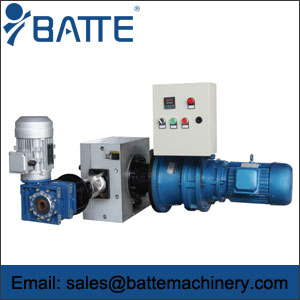 Pelletizer filter without wire mesh details:
Pelletizer filter without wire mesh Function:
Power-saving and eco-friendly wire mesh and plastic, improve yield, enhance plasticization, reduce labor capacity, and bring brand-new energy-saving products to each customer.

Pelletizer filter without wire mesh Technical data:
Material of screen plate: imported special die steel, with hardness of 800 by surface heat treatment.
Material of scraper: Germany H13, cemented carbide welding
Material of box: 55# steel casting
Reducer: harden teeth or cycloidal pin wheel
Motor power: 1.5-2.2kw
Electric box: discharging and heating 1 zone, control by drive motor

Type

Plate-Dm

(mm)

Heating

Power (kw)

Suitable

materials

Motor Power

(KW)

Output

(t/24h)

Production capacity kg/h (related to materials and processing technique, for reference only)

Relative Articles:
◆Single column screen changer
◆Continuous belt screen changer
◆Plate type screen changer
◆Hydraulic station for screen changer
◆Double column screen changer
◆Manual screen changer for extrusion
©2015 Batte Mechanical Zhengzhou Co,.Ltd. All rights reserved. 
sales@battemachinery.com
As one of
screen changer manufacturers
in China, Batte supplies
extrusion screen changer
, especially
hydraulic screen changers
.