Fax:+86 371-67993277
Tel: +86 371-67991755
Sales direct: +86 15838331071
E-mail:sales@battemachinery.com
https://www.extrusionscreenchanger.com
24h services
4 working positions screen changer
4 working positions screen changer
has double piston and 4 screen cavities, and can keep continuous operation, so it also called double-piston
extruder continuous screen changer
with 4 screen cavities.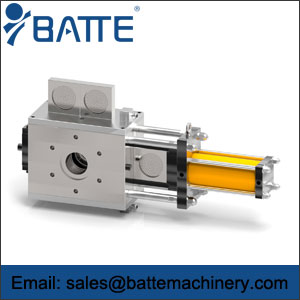 4 working positions screen changer applications:
Blown film and cast film (Bubble pack, Medical, Food Wrap)
Sheet (Foam, Strapping, plastic cardboard)
Coating (Hot melt adhesive)
Pipe (Corrugated, Gas Pipe) and profile
Compounding (Master batch, filler)
Wire and cable extrusion
Tubing (Medical, Industrial, Irrigation)
Fibers (Monofilament)
Blow molding
Pelletizing (strands and underwater)
Recycling of most polymers
Each screen bearing piston is equipped with 2 screen cavities, and these
extrusion screen changers
offer a large filtration area. It is used for processes requiring a large filtration area and high output rate. 4 screen cavities guarantee constant polymer filtration. This type of screen changer is designed with online wash device, and filter cleaning rate up to 80%, and it can be reused over 200 times.
©2015 Batte Mechanical Zhengzhou Co,.Ltd. All rights reserved. 
sales@battemachinery.com
As one of
screen changer manufacturers
in China, Batte supplies
extrusion screen changer
, especially
hydraulic screen changers
.