Fax:+86 371-67993277
Tel: +86 371-67991755
Sales direct: +86 15838331071
E-mail:sales@battemachinery.com
https://www.extrusionscreenchanger.com
24h services
Single-plate Continuous Screen Changer
Single-plate continuous screen changer
consists of main body, slide plate, heater, hydraulic unit, temperature control system and pressure monitoring system. The
continuous hydraulic screen changer for extruder
features and applications are as follows.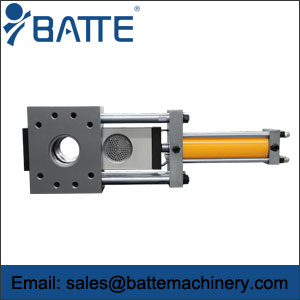 Single-plate Continuous Screen Changer Features:
With highly precise design, abrasive resistant, high pressure performance, ensuring larger effective filtration area and enhancing filtration effect.
Simple operation and easy cleaning process.
Extrusion screen changer
works well even under high temperature up to 300 ℃ and high pressure up to 50 MPa.
Breaker plates can be taken out from slide plate for easy cleaning. It is especially suitable for EPE, EPS production.
Single-plate Continuous Screen Changer Applications:
Blown film and cast film (Bubble pack, Medical, Food Wrap)
Sheet (Foam, Strapping, plastic cardboard)
Coating (Hot melt adhesive)
Pipe (Corrugated, Gas Pipe) and profile
Compounding (Master batch, filler)
Wire and cable extrusion
Tubing (Medical, Industrial, Irrigation)
Fibers (Monofilament)
Blow molding
Pelletizing (strands and underwater)
Recycling of most polymers
Different from the above single-plate continuous screen changer, it changes the screen without interrupting extrusion production.
©2015 Batte Mechanical Zhengzhou Co,.Ltd. All rights reserved. 
sales@battemachinery.com
As one of
screen changer manufacturers
in China, Batte supplies
extrusion screen changer
, especially
hydraulic screen changers
.