Fax:+86 371-67993277
Tel: +86 371-67991755
Sales direct: +86 15838331071
E-mail:sales@battemachinery.com
https://www.extrusionscreenchanger.com
24h services
Screen changer for polymer melt filtration
Screen changer for polymer melt filtration is offered in eleven sizes, ranging from 1.0" (25 mm) to 8.0" (200 mm). Batte is a designer and manufacturer in the field of continuous automatic screen changers.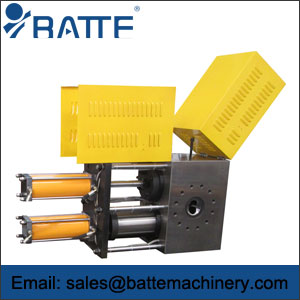 Screen changer for polymer melt filtration technology:
Constant Head Pressure
Uniform Melt Temperature
The operating mode of hydraulic and manual screen changers represents a source of disruption to the otherwise continuous nature of the extrusion process. As a result of their intermittent operation, these types of screen changers become a cause of head pressure and melt temperature fluctuations.
By contrast, our extrusion screen changers for polymer melt filtration operate on a principle that works in harmony with the rest of the extrusion process. The filter screen, in the form of a long, 120' (36 m) ribbon, moves at a slow, barely perceptible rate through the screen changer body to blend smoothly with the polymer flow.
The slow, steady incremental rate of screen travel in a screen changer, together with the capability to automatically accelerate the rate of travel, when needed, to adjust to fluctuations in the levels of contamination. With a consistently moving screen, the extruder head pressure stays steady, and, in turn, melt temperatures and flow rates remain perfectly uniform, throughout months of non-stop operation.

Our highly experienced engineers have backgrounds with the world's leading manufacturers of extrusion equipment, and are capable of handling every phase of a project, from initial testing in our lab to installation and start-up in the field.

Our screen changer for polymer melt filtration is handed over "on stream" by process engineers, who also provide operator training and who can, if called upon, trouble shoot the entire extrusion line.
©2015 Batte Mechanical Zhengzhou Co,.Ltd. All rights reserved. 
sales@battemachinery.com
As one of
screen changer manufacturers
in China, Batte supplies
extrusion screen changer
, especially
hydraulic screen changers
.