Fax:+86 371-67993277
Tel: +86 371-67991755
Sales direct: +86 15838331071
E-mail:sales@battemachinery.com
https://www.extrusionscreenchanger.com
24h services
Filter Screens for Polymer Melt Filtration
Filter Screens for Polymer Melt Filtration
are made of high-tensile strength stainless steel wire and for use with continuous screen changers. The applications and functions determine their values.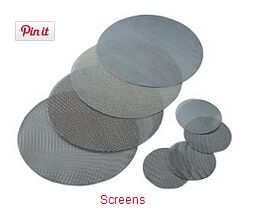 Filter Screens for Polymer Melt Filtration applications and functions:
We are the world's leading supplier of filter screens for use with belt-type or ribbon- type continuous screen changers. Filter ribbons are furnished in rolls with a standard length of 120' (36.5 meters) or 60' (18.3 meters). The yield of such a roll is equivalent to several hundred 'screen packs' in a conventional screen changer and lasts many months in non-stop operation.
The filter screen used in screen changers is woven from high-tensile strength stainless steel wire. Screens are ultra-sonically cleaned and packed in our plant and are available for immediate delivery world-wide.
Filter ribbons can be used with all
screen changers
of similar design, and can be supplied in non-standard widths and lengths to suit the customer's needs. We also supply filter screens for all other makes of ribbon-style screen changers. Please contact our screen department for more information.
The particle size of standard mesh screens used with screen changers is the diameter of the smallest particle that will be caught and retained by the screen.
We offer fully automatic, continuous screen changers that are used for polymer melt filtration in every segment of plastics processing including: blown film, blow molding, sheet and film extrusion, filaments & fibers, pipe and profile, pelletizing, BIAX (BOPP and BOPS). Our melt filters are designed to be used with all families of thermoplastics, including Polyethylene (LDPE, LLDPE and HDPE) Polystyrene (PS, HIPS), Polycarbonate, ABS, Acrylic, Flexible PVC, Nylon (PA 6, PA 66, PA 11) and Polyesters, as well as a wide range of engineering resins. Filter Screens for Polymer Melt Filtration are the main parts to ensure the quality of screen changers.
©2015 Batte Mechanical Zhengzhou Co,.Ltd. All rights reserved. 
sales@battemachinery.com
As one of
screen changer manufacturers
in China, Batte supplies
extrusion screen changer
, especially
hydraulic screen changers
.