Fax:+86 371-67993277
Tel: +86 371-67991755
Sales direct: +86 15838331071
E-mail:sales@battemachinery.com
https://www.extrusionscreenchanger.com
24h services
Continuous Backflush Screen Changers
Continuous Backflush screen changers
are specially designed for recycling compounding and large throughput extrusion process. The features and applications of this type
screen changers
are as follows.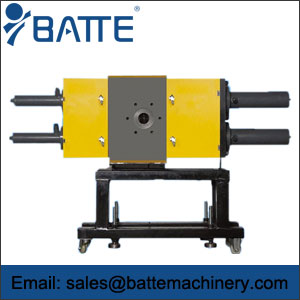 Double-piston Continuous Backflush Screen Changers Features:
Filtration area from 365cm2 to 10000cm2. It has been installed on the USA-funded enterprises PS recycling machine, the output is 1100kg/h, filtering accuracy of 40 ~ 60 mesh, the new screen feed pressure 2.5Mpa, after line strength to wash filter, the feed pressure drops ranging from 2.5 ~ 2.7 MPa, screen washed rate is of 90% or more.
Due to the very effective screen cleaning with high pressure impulses, its rate of the screen-cleaning exceeds 80%, repeated usage up to 100-400 times (depending on the filtration fineness), minimizing the screen cost. Eliminate busy operation in the process of filter calcinations, ultrasonic cleaning, chemical immersion, and save the cost of various cleaning equipment.
100% availability of the production line while cleaning and replacing the screen, elimination of scraps. Low operation costs of production.
Continuous Backflush Screen Changers Applications are mainly for Fiber, blown film, flat film, cast film, pipe, sheet, wire, recycling, and pelletizing.
©2015 Batte Mechanical Zhengzhou Co,.Ltd. All rights reserved. 
sales@battemachinery.com
As one of
screen changer manufacturers
in China, Batte supplies
extrusion screen changer
, especially
hydraulic screen changers
.