Fax:+86 371-67993277
Tel: +86 371-67991755
Sales direct: +86 15838331071
E-mail:sales@battemachinery.com
https://www.extrusionscreenchanger.com
24h services
Single-plate hydraulic screen changer applications
Single-plate hydraulic screen changer applications
are widely for blown film and cast film, sheet, and coating. Technical specifications and parameters are depends on applications and requirement of customers. As one of
screen changer manufacturers
, Batte can provide these products at a reasonalbe price.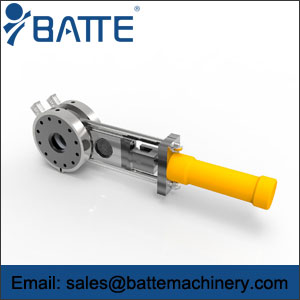 Single-plate hydraulic screen changer Applications:
Blown film and cast film (Bubble pack, Medical, Food Wrap)
Sheet (Foam, Strapping, plastic cardboard)
Coating (Hot melt adhesive)
Pipe (Corrugated, Gas Pipe) and profile
Compounding (Master batch, filler)
Wire and cable extrusion
Tubing (Medical, Industrial, Irrigation)
Fibers (Monofilament)
Blow molding
Pelletizing (strands and underwater)
Recycling of most polymers
The actual throughput will depend on the respective processing conditions, especially viscosity, contamination level and filtration fineness.
Hydraulic screen changer
Specifications are subject to change without prior notice.
©2015 Batte Mechanical Zhengzhou Co,.Ltd. All rights reserved. 
sales@battemachinery.com
As one of
screen changer manufacturers
in China, Batte supplies
extrusion screen changer
, especially
hydraulic screen changers
.