Fax:+86 371-67993277
Tel: +86 371-67991755
Sales direct: +86 15838331071
E-mail:sales@battemachinery.com
https://www.extrusionscreenchanger.com
24h services
Single piston discontinuous screen changer
Single piston discontinuous screen changer
has the reliability in a process that allows interruptions. This type
extrusion screen changer
also called single piston type or flat slide type discontinuous screen changer.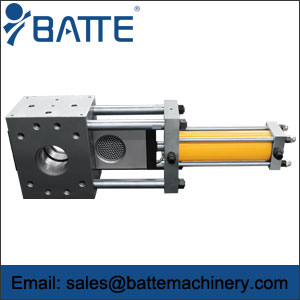 Flat Slide / Single piston type Discontinuous screen changers benefits:
Simple operation and uncomplicated changing
High operationnal reliability
Short material residence time
Leak-free mode of operation
Low pressure consumption
Flow channel geometry without any spot
Flat Slide / Single piston Discontinuous screen changer models:
Discontinuous screen changer
Single-piston screen changer
Flat slider screen changer
Hand screen changer
Discontinuous operation for pressures of up to 500 bar
Standard single-piston screen changer
Plate screen changer for extrusion processes
Price-optimised version screen changer
Flat Slide / Single piston Discontinuous screen changer application parameters:
Temperature [°C]: Up to 350, or 340
Operating pressure [bar]: 350, 700 to 1,200 depending on size
Differential pressure [bar]: to 100, 200, 300
Screen diameter [mm]: 1 x 30 to 1 x 400, 1 x 30 to 1 x 200, 1 x 46 to 1 x 455, etc.
Filtration area [cm2]: 1 x 7 to 1 x 1,256, 1 x 7 to 1 x 314, 1 x 16 to 1 x 1590
The Single piston discontinuous screen changer is based on a proven single-piston design that operates without any additional seals. This sturdy construction delivers a reliable and leak-free filtration of polymer melts for many years, no matter what the size or configuration of the system.
©2015 Batte Mechanical Zhengzhou Co,.Ltd. All rights reserved. 
sales@battemachinery.com
As one of
screen changer manufacturers
in China, Batte supplies
extrusion screen changer
, especially
hydraulic screen changers
.