Fax:+86 371-67993277
Tel: +86 371-67991755
Sales direct: +86 15838331071
E-mail:sales@battemachinery.com
https://www.extrusionscreenchanger.com
24h services
Screen Changer extrusion applications
Screen Changer extrusion applications
are for polymer melt filtration, such as foam, blown film, biax, sheet & film, pipe & profile, co-extrusion, blow molding, filament / fibers, other applications.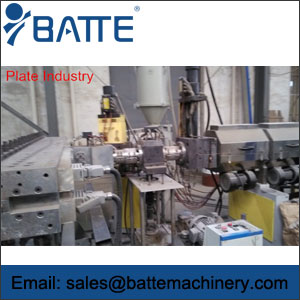 Screen Changer extrusion applications:
Foam:
Screen changer extrusion
are installed world-wide in 4.5"/6.0" and 6.0"/8.0" tandem foam lines. They are used with equal success on foamed PS, PP, and PE.
Blown film:
When the bubble is lost in a blown film line due to a screen pack change on a conventional screen changer, a considerable amount of time and material is lost. By contrast process disruptions are eliminated with a screen changer: a 120' long roll of filter screen is equivalent to several hundred screen packs lasting several months in around-the-clock operation.
Biax - no web breaks associated with screen movement:
When the film is lost from the chains of a biax line, it takes considerable time and wasted material to thread the line up again. This type of event can occur right after a shift to a fresh screen pack in a slide-plate or other discontinuous type screen changer. By contrast, with a screen changer, the 120' roll of filter screen is equivalent to several hundred screen packs and lasts for several months in non-stop operation.
Sheet & film:
No process disruptions
Pipe & profile:
Consistent wall thickness
Co-extrusion:
The co-ex process relies heavily on unchanging flow and pressure conditions.
Blow molding - uniform parison wall thickness & length:
Because it has no moving parts, screen changers are compact and fit into the confined spaces of blow molding equipment.
Filament/fibers:
With of the elimination of melt temperature and melt pressure variations caused by clogged screens in other systems, the fiber/filament gauge variations are kept within extremely tight tolerances with filters.
All these screen changer extrusion applications show the benefits derived from the use of screen changers in various extrusion lines.
©2015 Batte Mechanical Zhengzhou Co,.Ltd. All rights reserved. 
sales@battemachinery.com
As one of
screen changer manufacturers
in China, Batte supplies
extrusion screen changer
, especially
hydraulic screen changers
.