Fax:+86 371-67993277
Tel: +86 371-67991755
Sales direct: +86 15838331071
E-mail:sales@battemachinery.com
https://www.extrusionscreenchanger.com
24h services
Automatic Screen Changer
Automatic Screen Changer
consists of belt screen, heating and cooling system, and control system. Automatic Screen Changer is suitable PP, PE, ABS, PS, PMMA, and other polymer materials.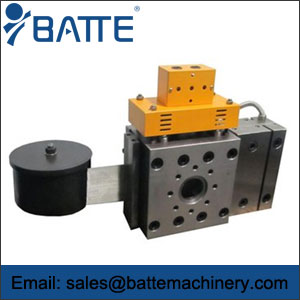 Automatic Screen Changer Features:
Continuous production with automatic and constant screen changing process, no manual operation
Minimized material flow and pressure fluctuation during whole production process, excellent product stability
Reducing waste and raw materials consumption
Automatic Screen Changer Benefits:
This type
extruison screen changer
guarantees continuous production, and requires no operator assistance while running.
Higher Product Quality
It has no motor or moving mechanical parts. It requires minimum maintenance interventions, continuous production achievable evening during belt screen replacement.
Automatic Screen Changer Applications:
Blown film and cast film
Sheet
Coating
Pipe
Compounding
Wire and cable extrusion
Tubing
Fibers
Blow molding
Pelletizing
The Filtering time and band moving rate are automatically controlled by pressure sensing elements of the system, no manual operation or monitoring required for Automatic Screen Changer.
©2015 Batte Mechanical Zhengzhou Co,.Ltd. All rights reserved. 
sales@battemachinery.com
As one of
screen changer manufacturers
in China, Batte supplies
extrusion screen changer
, especially
hydraulic screen changers
.