Fax:+86 371-67993277
Tel: +86 371-67991755
Sales direct: +86 15838331071
E-mail:sales@battemachinery.com
https://www.extrusionscreenchanger.com
24h services
batte hydraulic extrusion screen changer
The company mass-produced the standard model of hydraulic extrusion screen changer, which is specially designed for the extruder manufacturer. It is short-term delivery, durable and integrated body. It can change screens quickly without stopping the machine. It adopts electric heating and standard connection ports. . This screen changer has little effect on extrusion production and can be applied to most plastic and rubber extrusion processes. Screen speed of one to 1.5 seconds, depending on the size of the filter.
The hydraulic extrusion screen changer can be located at a distance of 10 mm from the porous plate, reducing the potential for polymer degradation. After removing the perforated plate, the screw can be pulled through the screen changer. Suitable for stand-alone extrusion and co-extrusion lines. All-metal sealing system easy to adjust, to ensure that the screen changer sealing operation, suitable for melt temperature up to 300C and melt pressure up to 40Mpa. Can be used to install vertical and horizontal.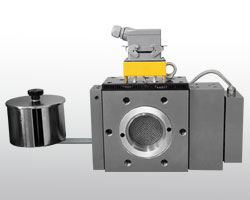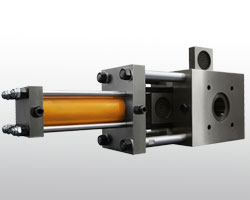 hydraulic extrusion screen changer Features:
Pressure activated seal structure
l Maintenance-free wear-resistant seals
l working temperature up to 300oC
l melt pressure up to 40Mpa no leakage
l standard flange connection
l can be equipped with protective cover, to prevent clip injuries and burns
l low installation and operation costs
hydraulic extrusion screen changer Application:
Applicable to all kinds of high viscosity melt extrusion line.
l sheet extrusion
l coated extrusion
l Profile and pipe foundation
l mixed extrusion
l Cable extrusion
l Hose extrusion
l laboratory extrusion
Casting and blown film
l easily degradable materials
©2015 Batte Mechanical Zhengzhou Co,.Ltd. All rights reserved. 
sales@battemachinery.com
As one of
screen changer manufacturers
in China, Batte supplies
extrusion screen changer
, especially
hydraulic screen changers
.