Fax:+86 371-67993277
Tel: +86 371-67991755
Sales direct: +86 15838331071
E-mail:sales@battemachinery.com
https://www.extrusionscreenchanger.com
24h services
Continuous Backflush Screen Changer
Continuous Backflush Screen Changer
also called CSC/BF, and performs much like the Continuous Screen Changer design. The following is features, benefits, and applications of Continuous Backflush Screen Changer.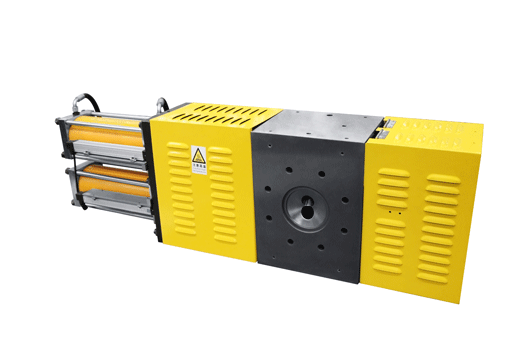 Continuous Backflush Screen Changer features:
Guaranteed leak-free operation to 10,000 psi
Breaker plate open area largest in the industry
All parts manufactured to ISO-9002 standards
No seals or contact parts
Rugged design provides resilience to wear
Minimum pressure drop
Continuous operation means no shut down
Process temperatures to 700° F
Continuous Backflush Screen Changer benefits:
Screen life increased as many as 25 times or more
Increased output due to lower backpressure
Design allows for less frequent screen changers without interrupting material flow
Eliminates line shutdown thus increasing production
Absence of wear surfaces allows us to provide a five year warranty against melt leaks
No maintenance or seals to replace
Easier access and less interference for the operator
Quick delivery time and return on investment
Continuous Backflush Screen Changer applications:
Sheet
Coating
Pipe and profile
Compounding
Wire and cable
Tubing
Lab lines
Textiles (fibers and nonwovens)
EVA, hot melt adhesive and PSA
Pelletizing (strands and underwater)
Recycling of most polymers
Highly contaminated polymers
Blown film and cast film
FPVC, corrosive and degradable materials
The Continuous Backflush Screen Changer performs much like the Continuous Screen Changer design. Polymer is divided into four streams, all being filtered in the top and bottom piston. Unlike the CSC design, the backflush unit has two filtration cavities in each piston, allowing for twice the filtration of the comparable sized CSC design. The most unique aspect of the backflush CSC/BF is the capability of recycling or maximizing screen life while in the melt flow. When upstream pressure rises due to a high contaminant level, the PLC control automatically actuates each piston to its backflush position, allowing pressure to push contaminants off the dirty screenpack. Contaminants are purged out of ports in the bottom of the housing into a drip pan. Once the backflush sequence takes place, the recycled screens are returned to the home position until the sequence takes place again. The number of backflush sequences varies from process to process before a screen change is required; however increased screen life of 25 times or more is common.
©2015 Batte Mechanical Zhengzhou Co,.Ltd. All rights reserved. 
sales@battemachinery.com
As one of
screen changer manufacturers
in China, Batte supplies
extrusion screen changer
, especially
hydraulic screen changers
.