Fax:+86 371-67993277
Tel: +86 371-67991755
Sales direct: +86 15838331071
E-mail:sales@battemachinery.com
https://www.extrusionscreenchanger.com
24h services
PET sheet die
PET Sheet die
Flow path structure: hanger structure. Production is stable, simple structure, easy to disassemble and clean.
PET Sheet die head: die lip can be obtained in a continuous flow of unobstructed, with a small interval of the push-pull adjustment screw on the resin pressure and metal up and down bounce effect, bending the die lip can be adjusted to die gap.
Surface treatment: All hard chrome plated surface, layer thickness 0.03 ~ 0.05mm,
PET Sheet die Fastener Strength: fasteners all use 12.9 high strength bolts,
Die heating elements and heating methods: the use of high-quality, durable heating rods partition heating control. Connectors use high quality, durable aviation connectors.
Product thickness range: the production of 0.5mm-6mm thick sheet products.
PET Sheet die Applications: PE, PP, PET, APET, PETG, ABS, PS, PMMA, HIPS, PVC, EVA, CPE, TPU and other raw materials.
Die width 400mm-8000mm.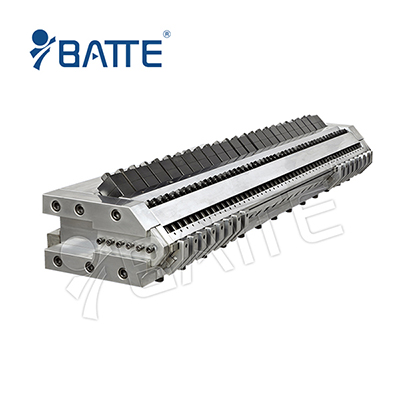 BATTE has made bold improvements to the key components such as screw, screen changer, melt pump, extrusion flat die and roller by virtue of the practical experience and field data accumulated over the years in the plastics extrusion industry, referring to the absorption of foreign advanced technology and Optimized design, product innovation.
Mold selection SKT4, NP9, 2311, 2738 and other high-quality thermal stability of steel manufacturing, and after multiple heat treatment process. Dedicated fluid analysis software to simulate the customer supplied materials for optimal fluid parameters. The application of mainstream three-dimensional software design, and CNC machining to achieve seamless docking. Die system used in sheet, sheet, cast film, extrusion coating die, hollow, foam and other forms of extrusion. Has Haier, the new flight, the United States, Pashto, Taiwan deep source, Hong Kong high Fidelity, Japan Ube, Chang Lai, Alice and many other well-known users.
©2015 Batte Mechanical Zhengzhou Co,.Ltd. All rights reserved. 
sales@battemachinery.com
As one of
screen changer manufacturers
in China, Batte supplies
extrusion screen changer
, especially
hydraulic screen changers
.