Fax:+86 371-67993277
Tel: +86 371-67991755
Sales direct: +86 15838331071
E-mail:sales@battemachinery.com
https://www.extrusionscreenchanger.com
24h services
pvc extrusion mould
pvc extrusion mould distributor, the distributor is divided into the core rod distributor, louver distributor, module distributor, three-tier distributor, five-story distributor and other multi-layer co-extruded composite distributor, up to a dozen ingredients of raw materials Coextrusion compound. The corresponding expansion device can be divided into the following applications Design PP, PE, OPP, CPP, CPE, PVB, TPU, EVA, PET, PVDC, EAA with EA, H and PA, can produce a variety of food products Packaging film, barrier film, sanitary products film, adhesive film, cling film and other types of film. PC, PS, PP, PE, HIPS, PMMA, ABS, PVC, PET and other sheet, sheet, commonly used in plastic packaging, light box advertising, industrial boards, construction and decoration.
PP, EVA, EVOH, PS, PE Single or multi-layer coextrusion sheet production line PP / EVA / EVOH / EVA / PP Five or seven layers coextrusion compound high barrier fresh packaging sheet has excellent gas barrier, Moisture resistance, gas barrier properties of a plastic packaging materials. The main application areas: jelly packaging, high-grade meat products, fast food rice and other food packaging, pharmaceuticals, cosmetics and other packaging.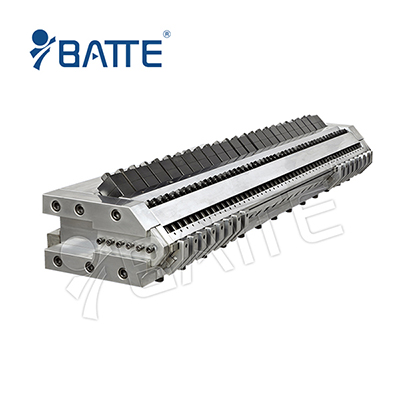 pvc extrusion mould main technical parameters: Model JWP120-700
Sheet width 700mm
Sheet thickness 0.5-1.4mm
Production capacity 500kg / h
Design line speed 20m / min
Category: Plate extruder
Number of screws: twin screw
High efficiency mixing plasticization, significant energy saving, lower production costs, mainly used in PVC, PP, PC, and so on a class of WPC products extrusion processing more.
The company specializes in the production of plastic film mould, a variety of single and multi-plate sheet extrusion squeeze flat head, 2-5 for the squeeze dispenser, melt metering pumps, a variety of manual and automatic screen changers, hollow lattice sunshine plate aluminum PVC, PP, PE, EVA, CPE, raw material width 3000MM, the thickness of 45MM the following arbitrary custom, the most affordable domestic The price welcome customers to order.
©2015 Batte Mechanical Zhengzhou Co,.Ltd. All rights reserved. 
sales@battemachinery.com
As one of
screen changer manufacturers
in China, Batte supplies
extrusion screen changer
, especially
hydraulic screen changers
.