Fax:+86 371-67993277
Tel: +86 371-67991755
Sales direct: +86 15838331071
E-mail:sales@battemachinery.com
https://www.extrusionscreenchanger.com
24h services
sheet extrusion flat die
So it's time for you to buy a new sheet extrusion flat die. What do you need to know to about current die design technology to make sure you get what you need and want from your supplier?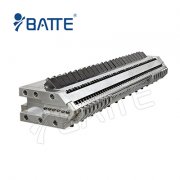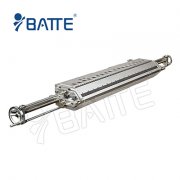 The purpose of a sheet extrusion flat die, of course, is to deliver a uniform flow of polymer across the exit of the die lip so that the film or sheet product is flat and the gauge is uniform. Because the die is "just a nozzle"—it simply takes what comes in and shapes and discharges it—it's designed to "leak" uniformly. The ability of a die to deliver a uniform flow rate across the die lips is based on the internal shape and structure of the die. In so-called coat hanger dies, the shape of the triangular dam between the manifold and the exit, and the change in manifold diameter, determine the uniformity of flow. Alternatively, in an inverted preland die, the shape of the preland step determines the uniformity of flow across the die face.
| | |
| --- | --- |
| Item | Specification |
| Die steel | P20/5CrNiMo |
| Material | PVC |
| Width of the die | 500mm-5000mm |
| Thickness of the product | 1-20mm adjustable |
| Choked flow rope | 90° |
| Way of flow passage | clothes rack type |
| voltage | 220V/50hz |
| Heating type | heating inside |
| Heater element | stainless steel heating rod |
| Mode of connection | closed cycled connection |
| Fastening piece | 12.9 high strength |
| Precision of polishing | Polishing precision of the stream surface of the die lip 0.03-0.04(μm)other parts is 0.04-0.05(μm) |
| Galvanization | the stream surface of the die head are treated by chrome treatment. Thickness 0.03-0.04(μm),hardness: 60-65Rockwellc,the chrome treatment thickness of the ektexine is 0.01-0.02mm. |
| Installation | according costumer's request |
| Way of charging | central ring charging way |
©2015 Batte Mechanical Zhengzhou Co,.Ltd. All rights reserved. 
sales@battemachinery.com
As one of
screen changer manufacturers
in China, Batte supplies
extrusion screen changer
, especially
hydraulic screen changers
.