Fax:+86 371-67993277
Tel: +86 371-67991755
Sales direct: +86 15838331071
E-mail:sales@battemachinery.com
https://www.extrusionscreenchanger.com
24h services
extrusion t die
Process Type: extrusion t die
Number of mold sub-surface: one
Number of cavities: single cavity mold
Mold installation: fixed mold
The scope of extrusion t die application: appliances, food, daily necessities, cell phones, gifts, handicrafts, other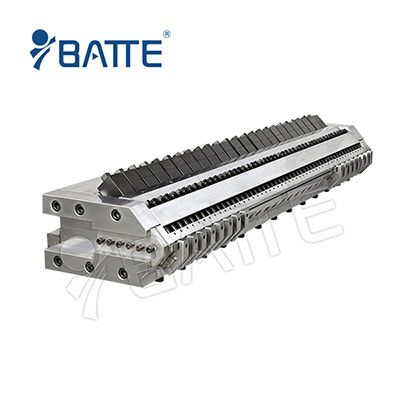 l quickly remove the mold on the crystallization of the technology.
l High viscosity plastic for special flow smoothing.
Multi-layer design to enhance physical properties, reduce costs.
Edge design can reduce waste generation, no burr, improve efficiency.
l a variety of stuffing system, due to different customer needs.
l perfect runner design does not stay.
l a variety of plastic foam experience.
1, extrusion t die processing process
A: The customer made the product requirements, design drawings for the supply side, confirmed by both parties, preparation processing and delivery. B: The supplier can also process drawings on demand.
2, the confirmation of the extrusion t die
As a variety of plastic mold materials through heat treatment can have a variety of steel, so when the supplier in the quotation required to confirm the type of mold steel used, the supplier and explain the difference.
3, on customer service
For the demand side made in the factory outside the contract after-sales service, the supplier charges a reasonable fee. After-sales service can be specified in the contract. We respect the wishes of both parties.
4, on delivery
Delivery by the contract signed by both parties in the delivery of specific issues
©2015 Batte Mechanical Zhengzhou Co,.Ltd. All rights reserved. 
sales@battemachinery.com
As one of
screen changer manufacturers
in China, Batte supplies
extrusion screen changer
, especially
hydraulic screen changers
.