Fax:+86 371-67993277
Tel: +86 371-67991755
Sales direct: +86 15838331071
E-mail:sales@battemachinery.com
https://www.extrusionscreenchanger.com
24h services
Pipe Extrusion Machine hydraulic extrusion Screen Changer
Pipe Extrusion Machine/hydraulic Screen Changer,Hydraulic Screen Changer,Extrusion.continuous screen pack changer can be used on many other plastic products extrusion.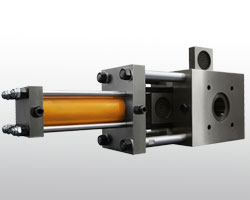 Pipe Extrusion Machine hydraulic extrusion Screen Changer Technical Data
Pipe Extrusion Machine hydraulic extrusion Screen Changer Applications
Blown film and cast film (Bubble pack/ Medical/Food Wrap)
Sheet (Foam/Strapping/Plastic cardboard)
Coating (Hot melt adhesive)
Pipe ( Corrugated/Gas Pipe) and profile
Compounding (Master batch/filler)
Wire and cable extrusion
Tubing (Medical/Industrial/Irrigation)
Fibers ( Monofilament)
Blow molding
Pelletizing (strands and underwater)
Recycling of most polymers
Pipe Extrusion Machine hydraulic extrusion Screen Changer Our advantages
We are specialized in the research and manufacturing of melt filtration device/screen changer for more than 20 years. With strong scientific research team and mature technology; hold many international and national invention patents.
Zhengzhou Deao Science & Technology Co.,Ltd is nowadays driving theChina's hydraulic screen changer, continuous screen changer, automatic screen changer market, as it positioned itself as the largest business platform to do the business in the polymer melt filtration and plastic extrusion industry.
To meet such massive needs, we expanded our international market,, also, we are trying to find the agent and sales representative in all over the world . the products in our company are widely known as the best quality and reasonable price..
©2015 Batte Mechanical Zhengzhou Co,.Ltd. All rights reserved. 
sales@battemachinery.com
As one of
screen changer manufacturers
in China, Batte supplies
extrusion screen changer
, especially
hydraulic screen changers
.